Hannah Zunic
Here's Your Required Reading for Spooky Season
Happy September Book Nerds! With the hot summer months over, that can only mean one thing. It's Spooky Season! The days are getting shorter, the nights longer, the temperature is slowly getting colder, and my power is growing! Soon pumpkins and spooky, scary skeletons shall overtake the world! It is truly the most wonderful time of the year!
Catch me hanging out in the night sky with my spooky pals these next two months!
And because I only want to do fall things, like taking my puppy to a pumpkin patch, I want to talk about some spooky stories. Unfortunately, I could not pick a singular book to review this week. That's why I'm giving you a required reading list for Spooky Season today. So here we go with my top five reads guaranteed to send shivers down your spine.
5. Starting us off at number five is the adult version of Scooby-Doo that we deserve! Meet Meddling Kids by Edgar Cantero, a horror-comedy featuring a Lovecraftian monster mystery to solve. And let me tell you something, Edgar Cantero does Lovecraftian horror better than Lovecraft. So what is Meddling Kids about? Well, it follows the remains of the Blyton Summer Detective Club 13-years after their last case in which they exposed the man behind the "monster" haunting Blyton Hills, Oregon. Since then, the members have all drifted apart, are leading broken lives, and haven't spoken since their last case. That is until one day when Andy, one of the members, reaches out to the rest of the gang, claiming that their last case isn't closed and they all need to go back to Blyton Hills to solve it. What follows is hilarity, some great monster horror, and a mystery that truly keeps your guessing.
4. Let's face it, Asian countries have some of the scariest urban legends known to man. I once read an article about Japanese urban legends and was too scared to use the bathroom for half the day because there are so many bathroom ghosts in Japanese culture. Can someone please explain to me why this is? I'm genuinely curious and want to not be scared of my bathroom. Something is going to pop out of my mirror at any moment, and I'm not okay with that. Anyway, enough of that tangent. Rin Chupeco's The Girl From the Well brings us in at number four. Inspired by Japanese legend of the Bancho Sarayashiki, The Girl From the Well promises frights galore. Published in 2014, The Girl From the Well follows the spirit of a murdered girl. Three hundred years ago, she was killed and her body was dumped in a well, now she hunts the streets at night to murder child murderers. I have no choice but to stan already. Things change one day when a boy moves into the neighborhood she haunts. Our protagonist senses that there is something dark and malevolent holding onto this boy and that he's in danger. Soon the world of American suburbia transforms into the remoteness of Aomori, Japan where creepy doll rituals and exorcisms take place all to save a soul.
Look at this cover, I'm already scared.
3. Be still my heart! At number three is the debut novel of Lyndall Clipstone. Lakesedge promises lush gothic romance set in the gothic manor of my dreams. I'm so excited for this one. The cover lives in my mind rent free. I seriously can't wait. Lakesedge is the story of Violeta Graceling who finds herself at the haunted Lakesedge estate. Rumor has it that the estate's owner, Rowan Sylvanan, murdered his family in the nearby lake when he was just a child. Upon her arrival to the estate, Violeta learns that not everything at Lakesedge is what it seems. She's falling for Rowan, she's learning his secrets, and she's also learning that there are ancient gods at play at Lakesedge. Seriously, I'm anxiously awaiting this book's arrival at my doorstep. I'm ready to place myself in the shoes of a gothic heroine walking around in a white nightgown and holding a candelabra while investigating a haunted gothic manor!
Ugh, look at this beauty!
2. There are so many amazing ghost stories being published that spooky season! My wallet is not prepared! At number two is White Smoke by Tiffany D. Jackson. Described as The Haunting of Hill House meets Get Out, I cannot begin to tell you how much this one has peaked my fancy. The book follows Marigold who is moving from sunny California to the Midwest. Her mom took an amazing new job with the Sterling Foundation, and this job came with a newly refurbished house. Now, after moving half-way across the country, Marigold finds herself in a home where lights flicker, disembodied voices are heard, shadows walk past doors that open on their own, there is the smell of decay that only she seems to be picking up on, and her ten-year-old stepsister's new imaginary friend keeps saying that they want Marigold gone. Love that for her. I can't wait to follow Marigold on this scary adventure into discovering who or what is haunting this home.
1. Finally, bringing us in at number one is The Dead and the Dark by Courtney Gould. Gould's debut novel promises a story about a town full of spirits and secrets. It follows two teens on a mission to uncover what the town of Snakebite, Oregon is hiding from its residents; teenagers aren't going missing and turning up dead on their own. Logan Ortiz-Woodley is new in town. She is the daughter of the TV's most popular ghost hunters, and fingers seem to be pointing her way when she and her dads come to Snakebite. Then there is Ashley Barton. She is very much concerned about the disappearances happening around town. Her boyfriend was the first teen to go missing, and his spirit has been following her around since then. When the Ortiz-Woodleys show up, one thing leads to another, and Ashley realizes the only person she can trust is Logan. Soon, the two find themselves embroiled in a dangerous investigation into the town's past and the secrets it keeps. I'm ready. I'm so ready. I'm so flippin ready for this spooky mystery.
With that, I must bid you all adieu. Come back soon for full length reviews on each novel mentioned in this post. Spooky Season starts now!
Until next time, stay safe, wash your hands, wear a mask , and read some good books for me.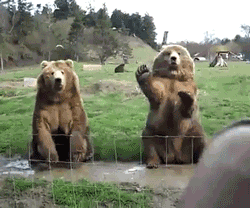 See y'all next week, bye!