Hannah Zunic
Updated: Dec 6, 2021
Hello, Book Nerds! Happy December! Happy Holidays to everyone out there. Welcome back to Reading Has Ruined My Life or welcome if you are new. My name is Hannah, and I'm so glad you could join me on this journey into my bookcases.
I don't have a review for you this week.
I'm sorry. It'll be okay, I promise.
You see, I was scrolling through TikTok a few weeks back and I came across something. Something that got the creative juices flowing. I came across a BookTok featuring books the creator thought could one day be considered classics.
I'm sorry, I didn't catch the creator's handle or else I would certainly credit them. I'm sure there are also a few of these TikToks out there, I only saw one, but I'm assuming they exist. This idea really isn't anything new. But if I find the TikTok again, I will certainly come back in and credit them.
But anyway, today I wish to give you a list of what I think will be future classics. Before we get there, let's have a quick talk about what makes books "classics." Unlike my Christine de Pizan post, this time I will cite my sources.
To start us off, I found a good definition of "classic book" or "classic literature" from another literary blog entitled Keeping Up With the Penguins. In a post from 2019, the writer defines classic books as "those we hold up as being exemplary or noteworthy in some fashion." I think most people can agree with that definition. It's short, sweet, and to the point.
Now, defining "classic books" or "classic literature" is a hotly debated topic; I could do a whole post on just defining the term itself. Anyway, not only do I have to define "classic book" or "classic literature," I also need to define what makes a book a classic. For this, I'm turning to an article from ThoughtCo. This piece is also from 2019, and lists the qualities of classic literature as: expresses artistic quality, stands the test of time, has universal appeal, influence, and is relevant through multiple generations. So that's what I will be basing my decisions on today.
My decisions will mainly be based on how much I believe a text can influence future creations and the readers, how relevant it can/will remain through the years, and showcases exemplary artistic talent. When it comes to a book's age, I think a piece needs to be around fifty-years-old before it can be considered a classic; that way it has been around for two, nearly three, generations. So the following are pieces I will be talking about that still have a long time to go before being considered a classic by my standards. Get it? Got it? Good.
Awesome. Now let's get to some books.
I will only be mentioning five works in this post. There are so many amazing pieces out there that will stand the test of time, but I'm only picking a top five. I'm sure there are some of you out there who won't agree with my picks so please chime off in the comments about what you can see becoming a classic. I'd love to hear your opinions and see what you agree and disagree with. You can also tell me on Twitter. You can tweet and follow the blog @RHRMLBlog on Twitter. Without further ado, I present to you my future classics!
5. The Perks of Being a Wallflower by Stephen Chbosky
I can already hear some people saying this is cheating. That The Perks of Being a Wallflower is already a classic given its age. But given that it was published in 1999, it hasn't reached the fifty year mark that I'm using as a standard. Plus, it's younger than me, and I'm certainly not considered a classic so therefore it's not old enough yet. This is a beautiful, heart-wrenching, coming-of-age story. It is a book that has stuck with me my whole life, and it's one I'll carry with me forever. The Perks of Being a Wallflower discusses topics of love, identity, sexuality, self-discovery, mental illness, sexual assault, friendship, and so much more. There is something for everyone in this book, and it will continue to be relevant to readers probably for the rest of time.
4. The Hate U Give by Angie Thomas
Again, this one is kinda cheating as The Hate U Give is already considered a modern classic, but I want to include it on this list as well. I don't want to delve too much into this one as I already have a whole article on why everyone should read this book. All I'm going to say is that I'm writing this listicle in 2021, and I don't think the current civil rights movement has reached its height yet. And most pieces of classic literature come from tumultuous times. It's not a stretch to see The Hate U Give be a book used as a learning tool about this moment in history; it already is.
3. The Seven Husbands of Evelyn Hugo by Taylor Jenkins Reid
This is probably the only book on this list that I would consider an "oddball." I feel like every other piece on this list is one someone could look at and go, "yeah, that makes sense." This one? Maybe not so much. But The Seven Husbands of Evelyn Hugo is such an engrossing read. The titular character has so many layers to her that I'd argue readers still don't know the real her by the end of the novel. Plus the themes of loyalty and betrayal, sacrifice, and loss are such major through lines in the novel that there's never not a moment where I didn't know the exact point the author was making. Not to mention Taylor Jenkins Reid gets into topics of sexuality, homophobia, and racism; again, all topics that are relevant to readers now and will be for many, many moons.
2. Persepolis: The Story of a Childhood by Marjane Satrapi
I was introduced to this graphic novel in a college class back in 2016, and if I could have written all my papers for this class on Persepolis I certainly would have. Persepolis is Marjane Satrapi's graphic memoir of what it was like growing up during the time of 1979 Iranian Revolution. It follows the author as a young child with common, normal, tradition childhood memories from before the war to what it was like growing up into a young woman in a chaotic time where the world around her was rapidly changing. There is so much this book touches on from war and justice to gender and feminism. Not to mention the massive history lesson it gives to someone like me who has no clue about any part of Iran's history.
1. The Kite Runner by Khaled Hosseini
If you know this one, which I suspect many do, then you're probably not surprised by its appearance. You also may know that The Kite Runner is a very painful read, but that's a conversation for another time. Set in Afghanistan mainly between the 1970's and 2001, this is a story about cultural changes, forgiveness, class issues, the loss of innocence, and redemption just to name a few running themes. Most importantly, this book makes readers separate the vast majority of everyday people who live in Afghanistan from the terrorists who are mainly associated with the country. Much like Persepolis, The Kite Runner paints a picture of life, specifically childhood, before a major change in a country occurs and what life becomes during and after a tumultuous time; thus becoming a poignant coming-of-age story that leaves readers reeling.
And thus endeth our dive into future piece of classic literature. I hope you enjoyed this post. It was a lot of fun running through every book I've ever read trying to decide what I think will end up becoming classic literature. And who knows, I could be totally wrong. Let me know either in the comments or on Twitter what you think of this list. I really want to know if you agree or disagree with the choices I've made. Can you see these books becoming classics that are taught in schools or make it onto those "100 books to read before you die" lists?
With that, I must bid you all adieu. Until next time, stay safe, wash your hands, wear a mask, and read some good books for me.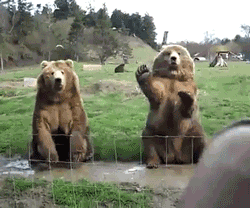 See y'all next week, bye!