Hannah Zunic
Updated: Jun 13, 2021
Hello, fellow book nerds! Welcome to March 2021 and a new post!
We made it through another month of 2021!
Today's post is gonna be a little different. As I was debating what to do this week, I came to a realization. I've never once shared with you all what's on my TBR pile. I've had this blog for over a year and never done this. How rude of me.
At this moment, my TBR pile is actually two stacks on one of my desk's shelves and I'm really trying not to add more books to them. I'm failing miserably at that the longer the year goes on. There are too many books coming out that sound too good to pass up!
Anyway, I thought I would share with you all just a handful of books that are at the top of my TBR pile. I should also mention that these books have been put in no particular order. The book in the number one spot is probably the book I'm most looking forward to read, but other than that, the order of this post means nothing. Enjoy you book nerds!
Here's a little hint at what's on the list.
5. I've been aware of Lucy Foley's work for awhile now, but I just haven't picked up any of her books. I don't know why because I keep hearing glowing reviews for both The Guest List and The Hunting Party; I just haven't picked either up. Until now. Sitting here in my pretty, little TBR pile, and starting off our list, is The Guest List.
Jules Keegan and Will Slater are having the wedding of the century. The exclusive event is set to be held on a remote island off the coast of Ireland where cell phone service may be spotty, and there's no easy way off the island, but this wedding will be perfect! That is until the weather turns to shit and everyone is stranded on the island.
A murder occurs and everyone has a possible motive. The wedding isn't going to be much a fairytale at this rate. Honestly, this book's synopsis reminded me a lot of Agatha Christie's And Then There Were None. That's my favorite Christie novel so The Guest List got pushed to the top of my TBR pile for that reason. I just need to remind myself not to compare it to Christie's work whilst I'm reading it.
4. Somehow I was only made aware of the following book late last year. Bringing us in at number four is American Royals by Katharine McGee. As of late, I've lowkey been obsessed with royalty and high society period pieces and dramas. Bridgerton? Ten-out-of-ten. The Crown? Ten-out-of-ten. Six? Ten-out-of-ten. You see what I'm getting at here. It's right up my glitzy, glamour alley that's right next to my spooky-ooky alley. I have two camps and they are horror and courtly intrigue.
American Royals is the story of America's royal family. They are descendants of George Washington, and the Washington family has ruled America for two and a half centuries. The current royal family is made up of King George IV, his wife Duchess Adelaide of Canaveral and Savannah, and their three children, Princess Beatrice, the heir, Princess Samantha, the spare, and Prince Jefferson, the fairytale prince.
The blurbs and reviews I've seen about this book have called it Gossip Girl meets Crazy Rich Asians. I'm ready. I'm ready for the romances and scandals that are bound to happen with this family. I am ready for the courtly gossip and intrigue! I am ready for the scandals and mayhem! I am ready for the fancy ball gowns and glittering jewels! I am ready for everything this book has to throw at me!
3. At number three we have Home Before Dark by Riley Sager. I'm a huge fan of Sager's work and am constantly looking forward to what he's going to do next. I'm very much looking forward to June when Survive the Night comes out, but I still have Home Before Dark to enjoy before then.
Home Before Dark is a classic haunted house tale, and we all know how much I love those types of books. The novel follows Maggie Holt, a young woman who doesn't believe in ghosts and hauntings despite having spent a small portion of her youth in a haunted, Victorian manor. Honestly, that right there is my dream house. I'm waiting for the day some mysterious, unknown distant relative bequeaths me a haunted, Victorian style house in his, her, or their will; it'll be the best day of my life.
Sadly, I don't know if that day will ever come. However, that day does come for Maggie. Her father, not a distant unknown relative, passes away and leaves her the infamous Baneberry Hall in his will. You see, the Holt family spent only 20 days in the manor before fleeing in terror one night. After having this terrifying experience, Ewan, Maggie's father, becomes a bestselling author with his account of what happened in Baneberry Hall.
Now that he's passed away, Maggie goes back to the manor for the first time in over 20-years to get it ready to sell. Unfortunately for her, Maggie begins to experience the same terrifying things her father did all those years ago.
Yep, things are going bump in the night in Baneberry Hall and I cannot wait to spend time within its haunted halls. This one is right up my alley with the haunted house and main character questioning their sanity. Or at least I'm assuming Maggie questions her sanity; if she doesn't I'm gonna be upset. But all signs point towards her doing so! I am excited! I can't wait to read this one! Also, the cover glows in the dark so that's fun!
2. I am a huge fan of the Stalking Jack the Ripper series by Kerri Maniscalco. So when she announced that she was going to be beginning a new series, this time involving witches, I was automatically on board. Everyone, say hello to Kingdom of the Wicked by Kerri Maniscalco!
Kingdom of the Wicked follows Emilia who descends from a long line of witches. Her family lives secretly among normal humans, and they do quite well for themselves as they run a famous restaurant. One day, Emilia's twin sister, Vittoria, misses her dinner shift and Emilia automatically knows something bad has happened to her twin.
It doesn't take long for Emilia to find Vittoria viciously massacred. Upon seeing her twin this way, Emilia vows to get vengeance on the person who did this to her sister. She soon finds herself using forbidden magic and working with Wrath, one of the Princes of Hell, to discover her sister's murderer.
Let's see, we have witches, we have dark magic, we have murder, we have a woman on a revenge mission. Color me intrigued.
1. And finally, perhaps the book I am most looking forward to reading is, drumroll please…
*Insert drumroll noise here*
Dread Nation by Justina Ireland!
Let me give you the official synopsis for this one; I can't write a better one if I wanted to.
Jane McKeene was born two days before the dead began to walk the battlefields of Gettysburg, Pennsylvania, derailing the War between the States and changing the nation forever.
In this new America, however, the battle for survival is as political as it is personal-and the restless dead, it would seem, are the least of her problems.
I'm so glad that I'm finding more and more revisionist history books that aren't either England won the Revolutionary War or Hitler won WWII. I'm also not one for zombie literature, but this is one story that just sounds so different from the other zombie books I've seen. It's so different from everything else I've seen as of late.
Seriously, how can you not be intrigued by a book like this? Be prepared for a review on this one soon-ish because as soon as I'm done with the current book I am reading; I'm going to be devouring Dread Nation.
I have a lot of high hopes for my TBR pile. Let me know what you have waiting in the wings right now. Send me those book recommendations because my TBR pile can't be bigger than it is now. Also let me know if I've sold you on any of these books and are on the way out to pick up a copy for yourself already.
Until next time, stay safe, wear a mask, wash those hands, and enjoy some good books for me you book nerds.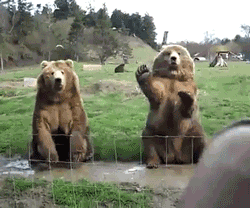 See ya next week, bye!