Hannah Zunic
Bridgerton Season 3 When?
Hello, Book Nerds! Welcome back to Reading Has Ruined My Life or welcome if you are new. As always, my name is Hannah and I am your captain on this journey into my bookcases. And yes, I am posting on a Saturday.
I hope you are all reacting like this child.
Have you heard the news? Bridgerton season three is going to focus on Colin and Penelope. I'm so excited! Penelope is my favorite character and I've been looking forward to her season. So much like I did for season two, today I'm going to present my list of demands for season three. Shonda Rhimes, are you there? Are you listening? I'll give you a dollar and a list of ideas in exchange for a producer credit.
Now before I get to said list, I guess I should issue a minor spoiler warning. If you're here because you love this show then I'm going to assume you've already watched season two, but in case you haven't, I will be bringing up what can be considered season two spoilers. You've been warned. It also should be noted that my knowledge of Bridgerton comes solely from the Netflix adaptation. Outside of the main synopsis for each book, I do not know what exactly occurs. Like I know who each character is supposed to end up with, but I don't know much past that. One day I will read the series, but for now I'm allowing myself to be surprised by each season and go with the flow. On that note, let's get to the list.
1. Firstly, I want to see Penelope stand up to her mother, sisters, and Eloise. Penelope is used as a human punching bag by all those women and I'm sick of it. Raise your hand if you too are tired of seeing Penelope be walked all over. I want to see this girl get angry and loud, and I'm sure I'm not the only one. She already embraces herself for who she is, but I want to hear her tell off the others. Penelope needs that moment, and let's be real, it's gonna be a good moment to watch.
From left to right: Nicola Coughlan as Penelope Featherington; Bessie Carter as Prudence Featherington; and Harriet Cains as Philipa Featherington.
2. So number two on this list is the exact same thing as number one, except this time it's with Colin. We all know Colin was being a major dick at the end of season two when he said he would never marry Penelope and a bunch of other shit about her to his friends. Basically what I want to see is Penelope stand up to her family, have Colin see said fight, have him realize he does love her, then Penelope calls him out on his bullshit, have Colin realize he loves her even more, and then they have a lovely confession of their feelings and we get a happy ever after. That was a massive run-on sentence and I'm not sorry for it. This whole post is messy and I'm not sorry about it. Anyway, the above is the blueprint for how I want things to go down. Again, Shonda Rhimes, I'll give you a dollar and this list in exchange for a producer credit. That's how producing works, right?
Nicola Coughlan as Penelope Featherington and Luke Newton as Colin Bridgerton.
3. I'm gonna move away from the main couple now. The following is something I brought up in my season two review, so I suggest reading that to fully understand what I'm about to talk about. TL;DR, the look of the ballroom scenes relate to the main character's views on high society. It's a great little detail, but I want each ball to feel/look different and distinct like they did in season one. To this day, they stand out in my mind whereas season two's blend into one mass.
4. This next one is something I saw on Twitter the other day. I'm so sorry to whoever I'm stealing this from. I cannot find the original tweet to credit said person, but this next one comes from someone else's brain and not my own. I know there are some people out there who are upset that the show decided to skip over Benedict's story for season three. Listen, I get it. I too am a Benedict stan. I am very much looking his season so hopefully this next idea placates those who are upset with season three focusing on Colin and Penelope. So how bout this: season three ends with Sophie running away from the ball and the last shot is Benedict picking up her glove. It would be a perfect set up. Again, this is an idea I cannot take credit for and all credit goes to that person who made that tweet that I no longer can find.
From left to right: Luke Thompson as Benedict Bridgerton; Claudia Jessie as Eloise Bridgerton; and Jonathan Bailey as Anthony Bridgerton.
5. I want Eloise to suffer in season three. I've said this before and I'll say it again, Eloise is one of my least favorite characters. I genuinely don't like her. Her reputation is already ruined but I want to see her in pain. I want her to face consequences for her actions just once in her life. I don't even care if character development comes from it, I just want to see her suffer cause I'm a horrible person.
6. Newton. I want more Newton. Please and thank you.
How can you not want to see more of that cute face?!
7. Weddings are never a big feature on this show. There's a quick wedding scene in season one, and season two's main couple never got a wedding scene. I would like to actually see a wedding in season three. I truly don't think fans will get one, but it would be nice.
And I think that's all I want at this point of time. I'm sure I'll get progressively more excited the more information regarding season three comes out. Maybe I'll make another one of these posts closer to the release when there are more details on the next season. For right now though, I'm going to end this post. Thanks for joining me today. I know this was a surprise so I hope you all enjoyed it. I shall see you again on Wednesday for your regularly scheduled program.
Until then, stay safe, wash your hands, and read some good books for me.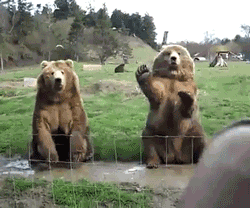 See y'all soon, bye!